BC LIVING: 6 BEAUTIFUL WAYS TO STYLE YOUR COFFEE TABLE
It was such a pleasure to be included in this stylish, creative group of women who were asked to share their personal coffee table style; it's always such fun for me to peek into how my peers interpret design in their own spaces! I loved seeing the looks of Monika Hibbs, Alexandra Grant, Erin Sousa, Tessa Garcia, and Tessa Sam. Many thanks to BC Living and Sparkle Media for inviting my living room into the story.
When I was asked to describe the "look" I lean to for my coffee table, it really got me thinking about my decor as a whole: how do I define my style and how do I then bring that to life in my own house? It's funny how working with my own space is such a different process than with clients - at home, I design solely off what I feel and love, often forgetting some of the design principles that I use when I'm working. However, the overall vibe is very me, which ultimately is what design is all about.
Jennifer Scott, A Good Chick To Know
"My personal style is very, well, personal. I believe that a space should speak of it's people so my decor is eclectic, comprised of family heirlooms, vintage treasures and other pieces that make me feel something. While I have a heavily layered design, full of personal items I've collected throughout my life and travels, I pull it all together with a muted, neutral palette.I love fresh whites combined with ivories and natural linen tones and a slight lean into feminine nudes and pinks. I love to entertain so that means I have to keep space on my tabletop, but I always have a grouping of pretty things to ground the room; a glass top and open-base coffee table works best for me so that I can layer groupings on my coffee table without the room feeling too heavy or full.
Coffee table: It belonged to my grandmother, who epitomized chic, and I remember as a young girl thinking how glamorous this table was
Trio of crystal candle holders: I received these as a wedding gift from a dear friend
Natural crystals (various stones and quartz): The Crystal Ark (Granville Island) and Amethyst Creations (West 4th Ave)
Moroccan puffs: picked up while I was travelling Morocco!
"I'm always on the go and I really like to come home to a space that feels comfortable. My coffee table is a simple marble-top piece, which I love because I eat on it and it's easy to clean. Fresh flowers and pretty baking books add a little colour, candles scent the room and, of course, there's always something sweet nearby."
Peonies: Flower Factory
Coffee table books: Chapters
Tea cup: Chapters
Plate: Miss Etoile
Candle: Vancouver Candle Co.
Cupcakes: Sweet Bake Shop
"Fresh flowers are a must on my coffee table and I love switching up the type of bloom with each season. I also keep either a candle or some of my favourite scents to quickly fill the room with a sweet aroma—and, of course, a fashion mag for some light reading"
Tray: Gluckstein Home
Scents: Jo Malone Velvet Rose & Oud and Mermaid
Magazine: Vogue
Vase: purchased at an antique market, similar ones available at The Cross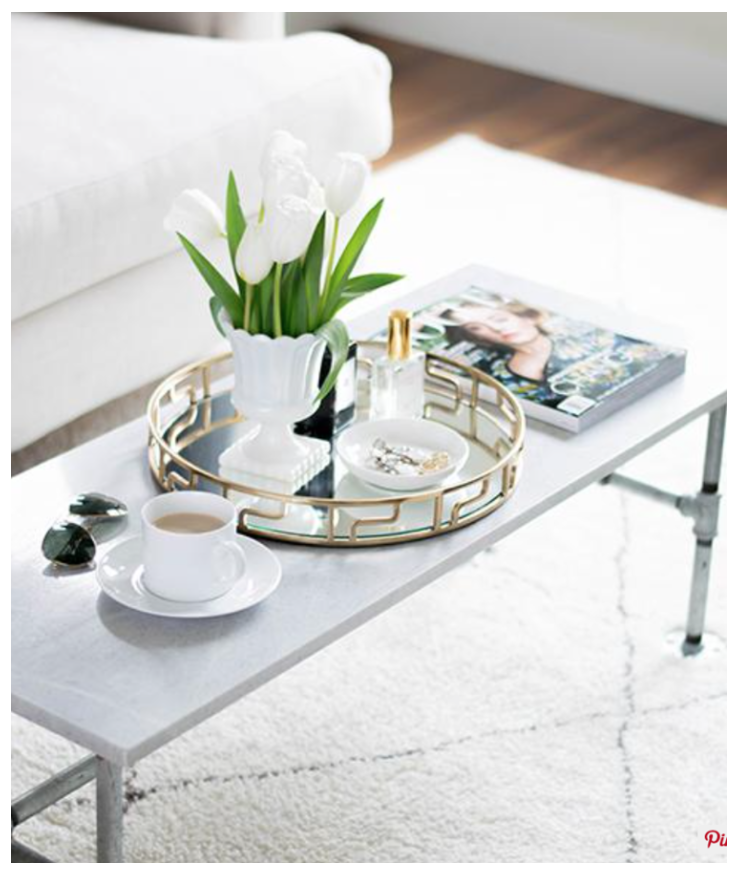 "I love striking a balance between feminine and minimalism, so having some element of fresh prettiness (flowers or an exotic tropical leaf) with other natural elements like marble or wood makes me feel right at home."
Marble phone case: Casetify
Candle: Voluspa Blanc de Blancs
Nebulizer: Saje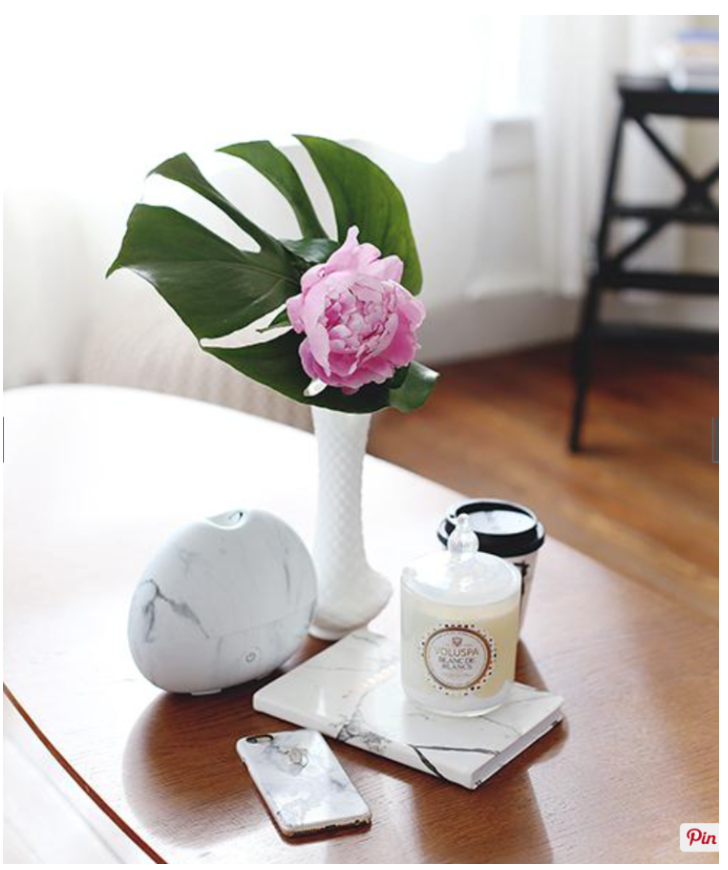 "My coffee table is one of my favourite areas in my home to style, but it can be a challenge at times too. I like to keep my accessories balanced with statement books, coasters, a candle and fresh flowers when I can. Creating a coffee table vignette that's both functional and beautiful is the perfect way to create a focal point in your room."
Candle: Diptyque
Vase: Sur la table
Coasters: West Elm
Books: Chloe Attitudes; Allegra Hicks: An Eye for Design; Fashion: 150 Years of Couturiers, Designers, Labels; American Modern
"My tufted ottoman is the centre of our living space and since it's not a flat surface, I use my acrylic tray to keep all of my items corralled. Fresh blooms, a candle and my fave decor mags are the essentials I always have on hand (with enough room to place wine glasses for evenings at home, of course)."
Tray: West Elm
Pineapple Tumbler: Design Darling
Magazine: Domino
Flowers: Flower Factory
Vase: The Cross Decor & Design
Candle: Diptyque