My Digs: Christina Richards
I love when I walk into someone's home and it is an immediate reflection of their personality.
Quite honestly, that's how design should always be, but more often than not it doesn't turn out that way. I was super impressed when I entered the home of Christina Richards, who had worked with a close friend of mine – Rachel Harrison (a designer as well) – to style the space when she and her family moved in.
Perfectly suited to the individuals within the home, the design exudes classic elegance, feminine overtones and a formal eclecticism. With thoughtful design decisions, Christina and Rachel created an ultimately chic and reflective space for the Richards to call home.
What is it:
A three bedroom corner townhouse at The Brownstone in Fairview.
Occupant:
I work in promotions and marketing management for one of the world's leading travel companies. I'm also the mother of two amazing children that bring me so much joy.
Major selling feature:
Location! We're walking distance to Cambie Village, Main Street, South Granville, and Granville Island. The area is also a wonderful family oriented community with several parks and community centres nearby. Another selling feature is the abundance of light in this home. For a townhouse, it has a ton of windows and always feels light and open, even on gloomy and dark Vancouver days.
First thing I changed:
When we first moved in, we didn't change much except for paint in the bedrooms. This year, we added a cozy custom bay window bench area with storage. It's now our favourite place to snuggle with our kids and read books. We also added custom open shelves in the kitchen to house all of our antique china, glassware and shiny things.
Feature I brag about:
Our master bedroom with its massive curved windows and vaulted ceilings. It's my favourite space in the house. My dear good friend, Rachel Harrison of RoomCraft Design + Renovations, in collaboration with Kaili Zevenbergen, designed this room a couple of years ago. It's all white, bright, yet cozy, and feels ultra-glamourous with the large tufted linen custom headboard, crystal chandeliers, and special hand-picked antique pieces. I have a hard time getting up in the morning.
That one conversation piece:
Our Zöe Pawlak painting that hangs above our sofa. It really is the centerpiece of the home. When my husband and I first saw it, we instantly fell head over heels. I love the bright fuchsia in the painting and every time I look at it, it just makes me feel good. It's something we will love forever.
The decor:
Our décor is a bit of contemporary paired with some soft and traditional elegance that connects well with the classic European features of the townhouse. The colour palette is a lot of white with greys, some soft blues, and metallics, as well as touches of marble, glass, and crystal. I love all things shiny, pretty, and light.
The story behind the art/antiques/collectibles:
I love our vintage Belgium bedside tables that Rachel Harrison found for us at an antique market. The tops were replaced with beautiful white marble – making it feel new and glamourous. I love collecting antique tea cups and chinaware. They are so pretty to display. I have a beautiful set passed down to me by my grandmother that I bring out when hosting special dinners. Besides our Zöe Pawlak piece, my other favourite art comes from my three-and-a-half-year-old daughter. She loves art and every scribble is like a masterpiece to me.
Downsides:
Although we love townhouse living and enjoy the large courtyard where all of the community kids can play safety, our own backyard would be amazing.
Neighbourhood haunts:
I'm in love with The Birds Nest and Heirloom on South Granville. As a family, we really enjoy Biercraft on Cambie and Rocky Mountain Flatbread on Main. Both are great for brunch and very kid friendly. Main Street is also fantastic for little coffee nooks and shopping.
Compared to your last place:
Our previous place was a large condo in Yaletown. We were newlyweds and at the time, the space was perfect for us. It had floor to ceiling windows everywhere that let in the most beautiful light.
Favourite apartment/house/condo activity:
Just hanging out and spending time with my husband and two children.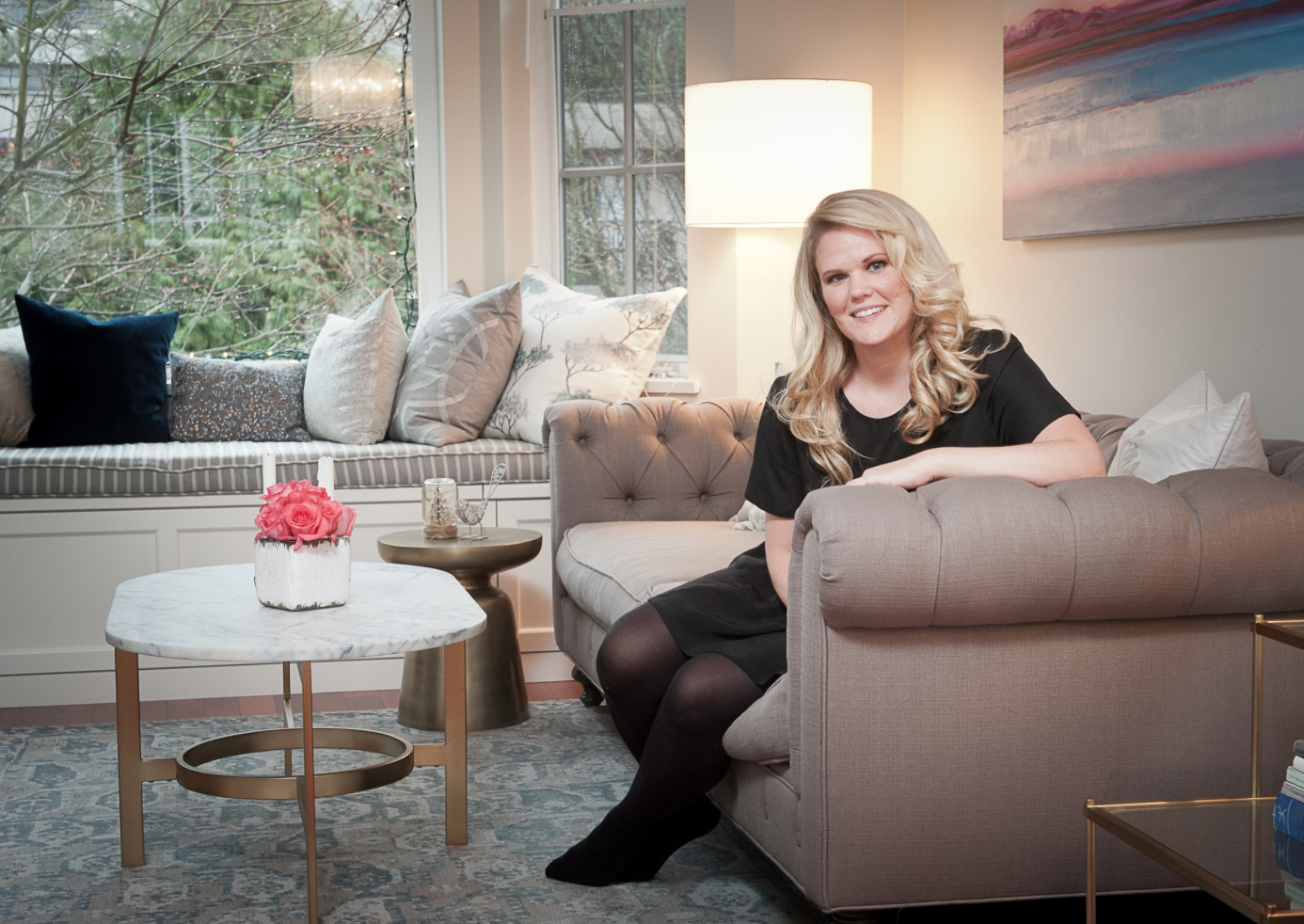 http://www.westender.com/lifestyles/a-good-chick-to-know/my-digs-christina-richards-1.1684600#sthash.wYI9TQH4.dpuf